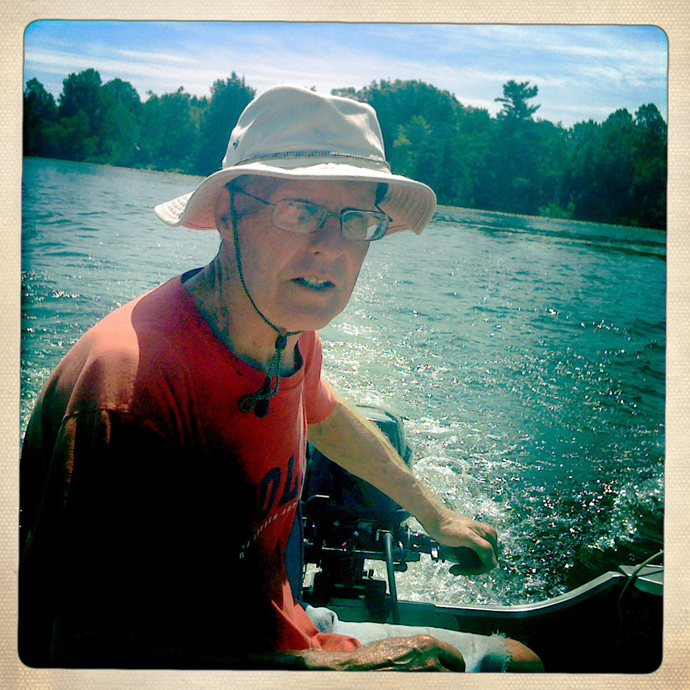 I'm sure many of you have really wonderful memories of your dad.  I'm lucky, my dad is healthy, active and fishing. He  is actually getting ready to return to the lake for the summer.
My family vacationed in Canada every summer and I spent countless hours of those vacations fishing with my dad. We would take a boat, not the testosterone-filled bass boats of today, but a simple aluminum rowboat with an outboard motor. The odor of gasoline always made me feel as if I was at the start of an adventure. Now, when I pump gas into my car and gas accidentally spills on my hand, I take a whiff and remember the lake.
If I wasn't driving, I had to sit at the front "to weigh down the boat." But I was so light that when we hit a big wave the boat would crash down, jarring my teeth and splashing waves on my face.
When we arrived at our starting "spot," we would turn off the motor and spend the next several hours drifting across the bay. My dad baited the lines, and we'd wait. Sometimes we'd catch something, many times we didn't. The bottom of the boat would heat up in the sun, and my bare feet would burn until I had to either put flip-flops on or risk blisters. I waited as long as I could, but I'd always give up before my dad. I've seen pictures of people walking over coals. I think my dad could have done it.
When the heat became too much, we jumped into the lake. I always worried about getting tangled up in the weeds, so my dad would jump in first. He'd assure me there were none, but they were there. As the boat floated away, we'd drift toward each other. My dad swam effortlessly, like an astronaut floating in space. He taught me how to float forever. Still, many times I'd grow tired first, and return to the boat. Then whenever my dad went underwater I'd frantically watch for him, and worry until he surfaced. Often, just as I was about to jump in, he'd surface without even being out of breath.
We played gin rummy. I never became a good gin player. He would show me the intricacies of holding out for gin, or folding sooner and thwarting your opponent. We often used lures and bags of salt-and-vinegar potato chips to weigh down the card, but one or two of them would always blow away. It didn't matter. We kept playing. I rarely beat him, and when I did, I suspected he'd let me win. When we returned home after one of my victories, I'd be so excited  I'd race to the cabin waving the water-splattered score sheet.
Our fishing would sometimes continue at midnight. Once we reached "the spot," Dad would kill the motor, I'd bait the lines and we'd wait and watch, or at least he'd wait and watch. I'd wrap myself in an old Hudson Bay blanket that felt like a scratchy throat, and lie on the boat bottom. I'd stare at the stars and be lulled to sleep. I don't know what my dad thought about when he fished at night. Maybe nothing, and maybe that was the point.
I remember one night he woke me up. The northern lights were on. When I opened my eyes, I felt as if I were in one of those dreams in which you can't move your body. The northern lights were like colossal lightning bugs on steroids, and in color. It was if nature had become a peacock, and decided to strut her stuff. We sat there looking, neither of us saying anything. When the light faded, my dad said, "I'm glad you saw that."
Then he went back to fishing, and I went back to sleep. We never told my mom or brother about the lights. They were our fishermen's secret.
Tell me about your own special memory and honor your father this weekend!