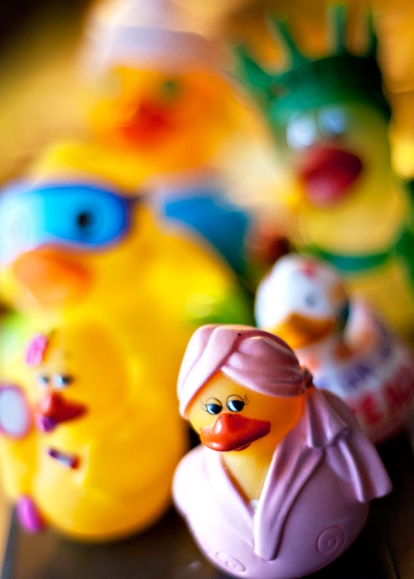 I'm not a collector. I 'm a throw-awayer. I don't like to dust stuff.  But I am an unintentional collector of rubber duckies. As you all know, I'm an animal lover but the the ducky connection – I'm not exactly sure how it happened.  I blame my friend, I'll call her "T." She gave me one of those Bath & Body Works gift baskets with lots of great stuff in it since I'm a bath-a-holic. But what was also in there was one of those cute yellow rubber duckies. I must have exclaimed profusely over it (although I'll deny it to my dying day) because next thing you know, I have over 50 rubber duckies. Everyone gives me a ducky. I have a soccer one, a Santa, a surfer, a princess and a cat rubber ducky just to name a few.
Look, they are cute. Like baby chicks and small puppies cute. The problem is for a while they fit in my bathroom. But it got to the point that it started to look like a crazy Rubber Ducky museum in there. Then, I remodeled the bathroom and they just don't go with the new decor.  They sat in a plastic bag for about six months and then I dragged them out and put them in my office.
But you know, the little suckers grow on you. They're all bright and happy and quite frankly, you can't look at a Rubber Ducky and not smile. So, as far as collections go, they make my life just a little brighter. And guess what, as collections they are so easy to clean, throw them in the bathtub and air dry. No dusting required.
Tell me, what do you collect?